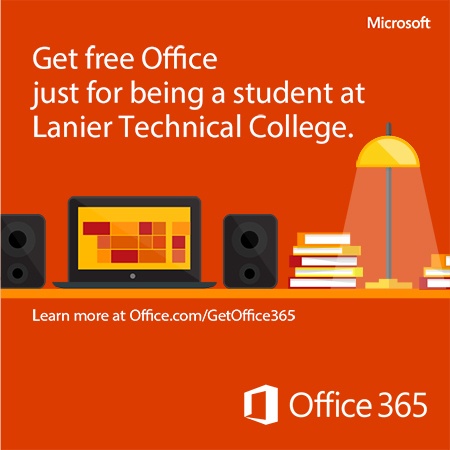 Lanier Technical College is providing Microsoft Office to every student free of charge. This means the latest version of the full Office productivity suite, including Word, Excel, PowerPoint, OneNote, and more available for offline and online use to best prepare you for class. As long as you're a student here and the program continues, you'll be able to use this software for free.
Install on up to 5 compatible PCs and Macs, plus 5 tablets (including iPad!)
Use with OneDrive for automatic device syncing
Gain valuable skills on the world's most popular productivity software
Use the same programs as your professors to ensure full file fidelity
To get your Office follow these simple steps:
For PC and Mac:

Visit Office.com/GetOffice365
Enter your Lanier Tech Email Address in the Enter your school email address field, then click Get Started.
You will then be asked if you are a student or teacher.  Select the correct link.
You will be asked to login using your Lanier Tech email address and password.
You may be asked additional questions before getting to the installation page.
On the installation page you can access web version of Office products or you can click the Install Office button.

For iOS and Android:

Download from your app store

iPad: Word, Excel, PowerPoint
iPhone
Android

Sign in with your school credentials for full editing capability
You will need your student email account to sign in.
If you have trouble installing Office, this guide may resolve your issue: http://aka.ms/office365help