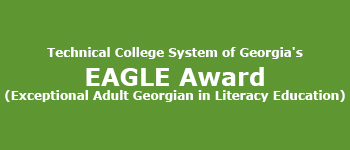 February 26, 2019
Lanier Tech EAGLE Student of the Year and TCSG state-wide EAGLE Student of the Year, Katie Ballard, honored by Georgia State Senate and Georgia House of Representatives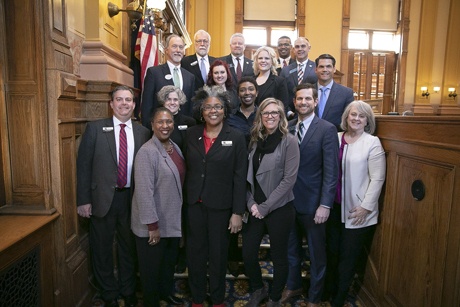 Lanier Technical College EAGLE Student of the Year and the Technical College System of Georgia's state-wide EAGLE Student of the Year, Katie Ballard, was honored by the Georgia State Senate and the Georgia House of Representatives with a resolution recognizing her as Georgia's EAGLE Adult Education 2018 Student of the Year.
Also honored were Crystal Wright of Georgia Piedmont Technical College, the 2018 Georgia Occupational Award of Leadership (GOAL) Student of the Year, and Stephanie O'Donoghue of Chattahoochee Technical College, the State 2018 Rick Perkins Award for Excellence in Technical Instruction.
The Technical College System of Georgia's EAGLE (Exceptional Adult Georgian in Literacy Education) Award acknowledges the outstanding accomplishments of Georgians who enroll in the TCSG's adult education programs in order to study for and earn their GED® credential. Each March, the local EAGLE winners are the guests of a three-day conference in Atlanta that ends with a lunch banquet in their honor.
In her winning speech, Ballard remarked, "Adult Education is crucial for building a bright future. It changes who we are for the better. Adult Education redeemed my self-worth. What is left for people like myself that don't have high school credential? We become adult members of society; we struggle in minimum wage jobs; sometimes, we don't pay all of our bills. We don't contribute to society; we take from it, but I found my salvation. I found Lanier Tech's Adult Education Program and after six long months of hard work, I passed my GED®. The next time that I cried at a graduation, it was tears of joy, it was my own graduation. Thanks to Lanier Tech, I plan on earning my LPN and work towards my dream of being a Registered Nurse and midwife."
Dr. Ray Perren, President of Lanier Technical College, remarked "We are extremely proud of Katie. She is a wonderful ambassador for Adult Education and how this program changes lives. Thanks to the opportunities afforded to her by completing the Adult Education program, Katie is now a college student at Lanier Tech working toward fulfilling her dream of becoming a nurse."
During her tenure as the TCSG EAGLE, Ballard has traveled the state as Georgia's EAGLE ambassador for adult education, speaking to students, civic groups, legislators and others about lifelong learning and the importance of earning a GED® credential.
Katie is the second State EAGLE winner from Lanier Tech in the last three years and the College's third State EAGLE winner. She joins Annie Thomas (2002) and Desmond Vaird (2016) as State EAGLE Ambassadors from Lanier Technical College.