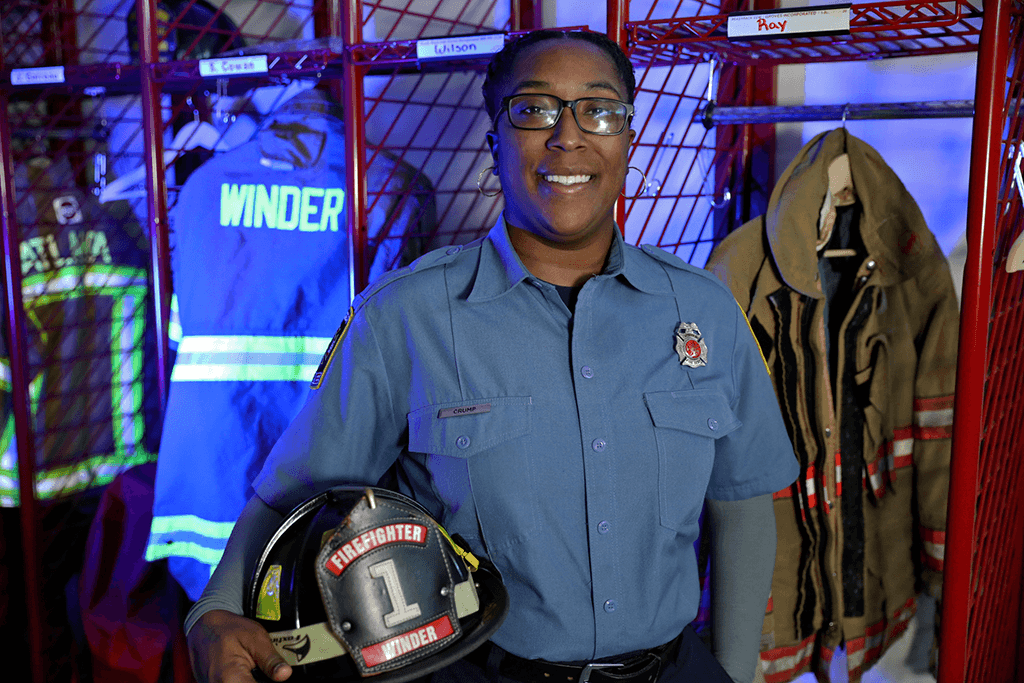 January 27, 2022
Lanier Technical College's Fire Science Program is well known for turning out top-notch graduates that are exceptionally prepared for the workforce. The students experience real-world scenarios that test them as individuals and as a team. This claim is confirmed by recent graduate, Ebony Crump.
Crump found her love for first responders while in the midst the of Hurricane Katrina:
I'm originally from Louisiana. In 2005 when the hurricane hit, we like most people, stayed sheltered in place. Unfortunately, we were stranded due to the strength and devastation of the storm. It was the police officers, firefighters, and EMT's that came to rescue us. Their dedication and bravery gave me the idea that one day I want to be a first responder.
This rescue sparked a fire in Ebony that eventually led her to choose Lanier Tech's Fire Science Program. Under the instruction of Program Director and 2022 Instructor of the Year, Karen Nowakowski, Ebony found her professional calling. "While in the program, I never felt like I was just another number in a sea of students. I made friends for life, learned valuable skills, and secured a career at the end of the program," said Crump when asked about her time in the program.
Crump has started her career with the City of Winder's Emergency Service Office as a Firefighter/EMT. With that career came the title of Winder's first female firefighter. "I couldn't be prouder of Ebony and all she's accomplished," said Karen Nowakowski.
Ebony graduated from the program in spring of 2021, and plans to attend more courses at Lanier Tech to better hone her skills.