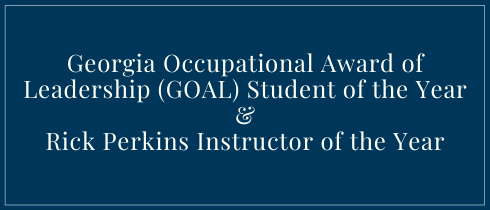 November 22, 2021
Gainesville, GA – Lanier Technical College held its annual Georgia Occupational Award of Leadership (GOAL) Student of the Year and Rick Perkins Instructor of the Year Luncheon on November 22, 2021 at the Ramsey Conference Center. Community Leaders, College Leaders and Instructors alike all attended the annual event.
Of the four finalists, Criminal Justice student and Hall County resident, Britany Parke, was announced as the 2022 GOAL Student of the Year. Parke, a recent GED® graduate, was overjoyed with the opportunity to represent the college with her new accolade.
Fire Science/Emergency Management Program Director and Instructor, Karen Nowakowski, was awarded the 2022 Rick Perkins Instructor of the Year Award. Nowakowski, a previous Fire Science Program graduate and GOAL student, gave emotional remarks about her journey to becoming the 2022 Instructor of the Year.
Both Parke and Nowakowski will go on to compete in the Technical College System of Georgia (TCSG) Regional competitions that will be held on March 1, 2022.
ABOUT LANIER TECHNICAL COLLEGE
Lanier Technical College has a 100 percent job placement rate five out seven years in a row. The College offers over 50 programs of study in some of the nation's fastest-growing career fields including healthcare, energy, business and industry, and public or private service. Lanier Technical College is a Unit of the Technical College System of Georgia. For more information about Lanier Technical College, visit
www.laniertech.edu
or phone 770-533-7000.