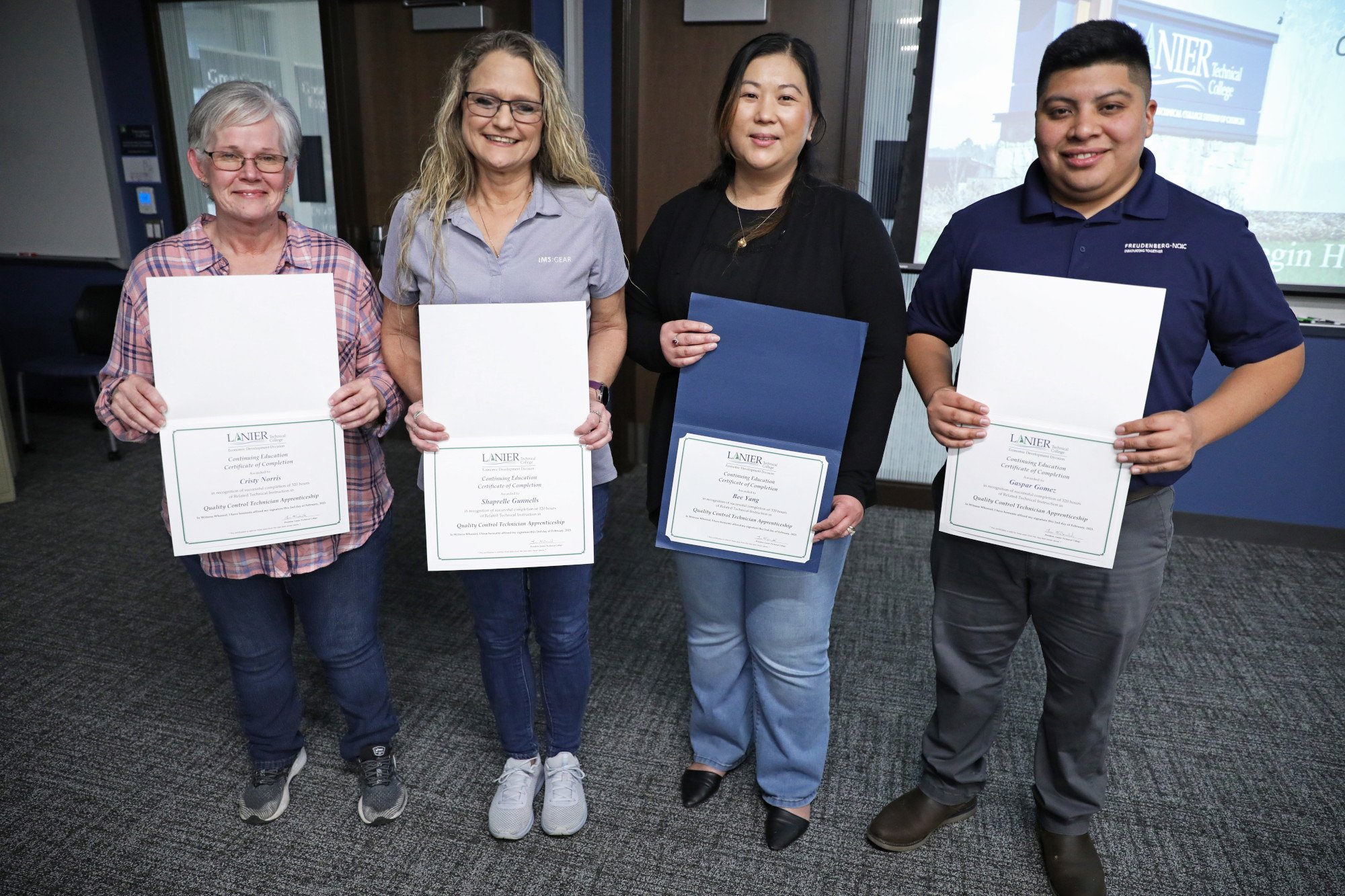 February 15, 2023
Gainesville, GA – Two years ago, four employees from Northeast Georgian manufacturers took the initiative to attend a new two-year Quality Control Technician Apprenticeship at Lanier Technical College. The apprenticeship, a non-credit U.S. (DOL) Department of Labor registered apprenticeship, was designed by manufacturers to fulfill the growing workforce need for Quality Control Technicians. This revolutionary training method was provided by the college's Economic Development Division.
Cristy Norris with Murray Plastics, Gaspar Pedro Gomez with NOK-Freudenberg, Shaprelle Gunnells with IMS Gear, and Bee Yang from Tsubaki-Nakashima all strived to elevate their skills in support of their employers. This customized industry training's end goal is to create a new pipeline of Quality Control Technicians for local industries.
While enrolled, these students worked closely with Workforce Strategies Group LLC whose mission is to "collaborate to realize a skilled workforce" within the Northeast Georgia region.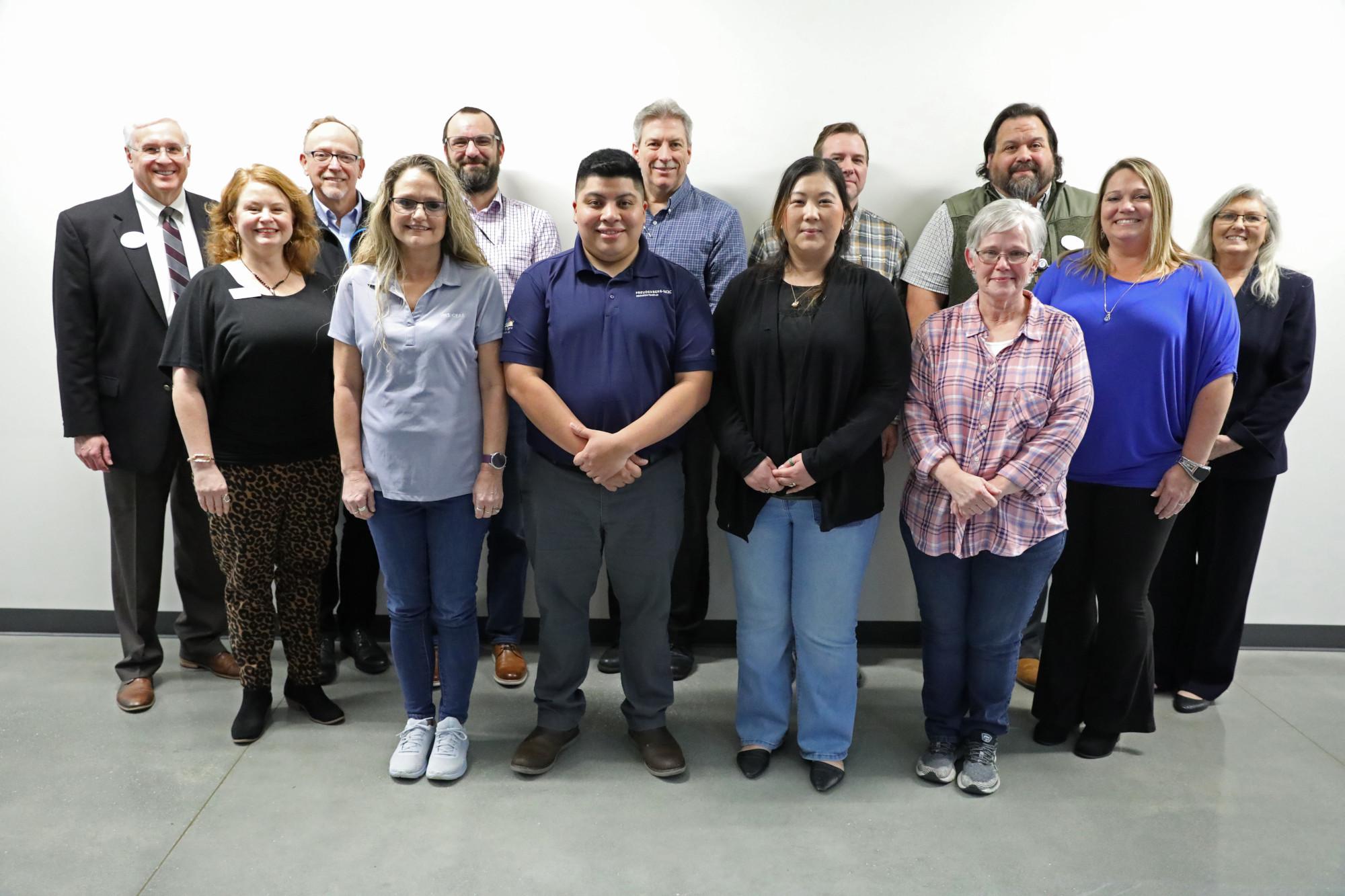 At the apprenticeship's inception, the apprentices start by learning employability skills such as nonverbal communication and presenting a report or speaking to a large audience. Moving forward, the instruction becomes more rigorous by delving into the logistics of quality management systems, QI Macros and spreadsheet analysis techniques, quality planning systems, (FMEA) Failure Mode Effect Analyses, and more.
"The skills and knowledge they learn throughout the two years in class is applied at their workplace daily, similar to hands-on homework. These measurable skills gains were also used to assist companies in solving customer-related problems and to increase insourcing thereby providing a quick return on investment," said Shelley Logan, a Partner with Workforce Strategies LLC.
Throughout the apprenticeship, students get hands-on training measuring various mechanical parts using digital calipers and in the latter half they work with (CMM) Coordinate Measurement Machines. All of the initial coursework is tied together with a capstone project that is then presented to their employers and college leadership.
Cory Addison, Director of Business and Industry for Lanier Tech's Economic Development Division, was in attendance to view the apprentice's capstone project, "This training model is one of a kind and was designed specifically by and for our industry partners. The shortage of Quality Control Technicians in our area allowed us to provide training to an organization's employees. Doing this, allows the organizations to promote within. It was a time investment by the organizations to encourage their employees to come train here, but it is already paying off for them in leaps and bounds."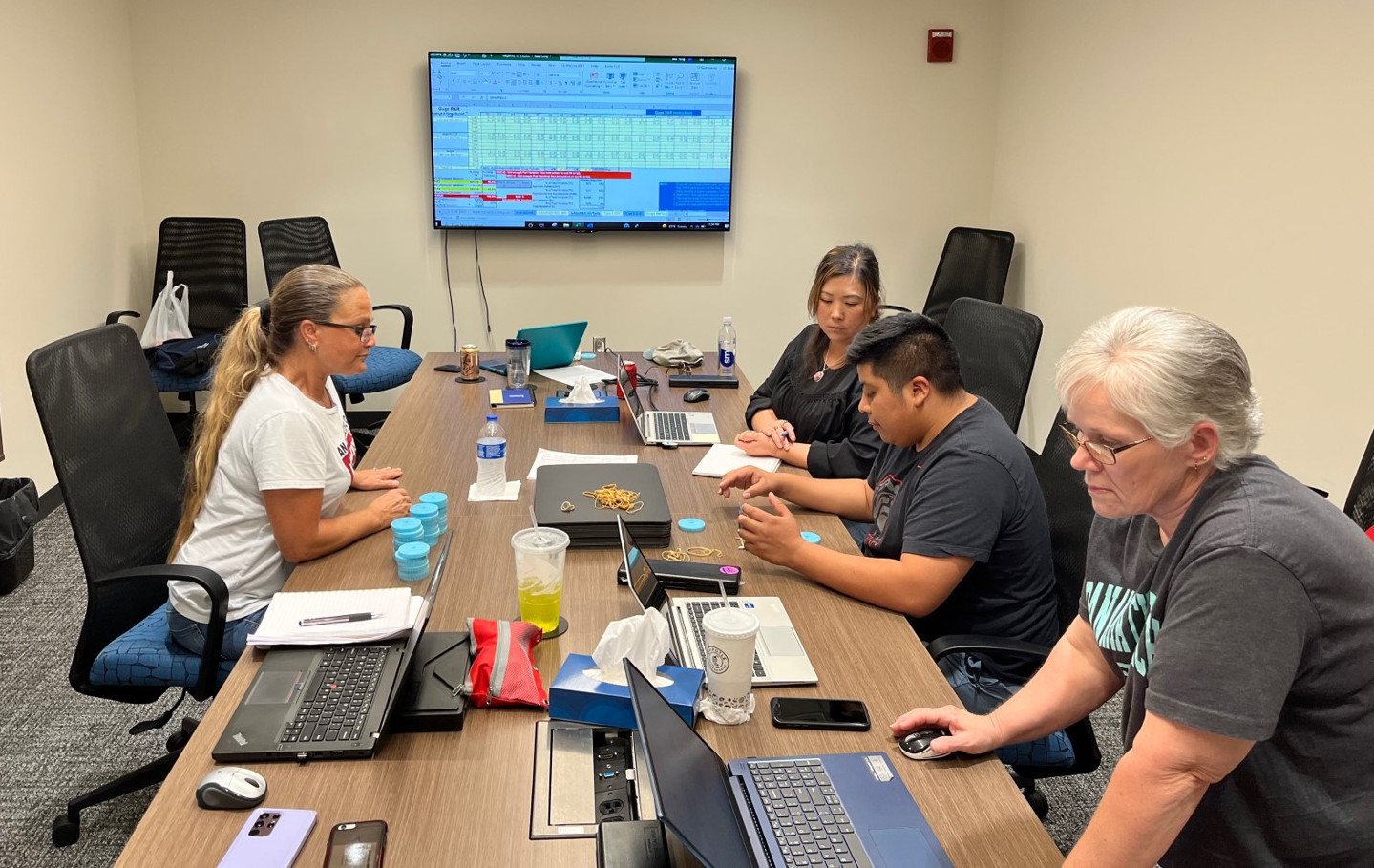 On Thursday, February 2, 2023, the first cohort of Quality Control Technicians graduated from the apprenticeship. Two of the apprentices had already been promoted within their companies before graduation. Lanier Technical College President, Tim McDonald, spoke with the graduates expressing, "Congratulations to these apprentices and their employers for investing in the future success of their business. U.S. DOL Registered Apprenticeships are just one resource Lanier Technical College utilizes to prepare the future workforce of Northeast Georgia. I encourage anyone looking to gain the high-demand skills needed by our local employers to visit Lanier Tech. Additionally, I encourage any business looking to upskill their current workforce, to connect with Lanier Tech to look at our full array of training resources."
Greg Vitek, a Partner with Workforce Strategies, echoed McDonald's sentiment, "The main point with this apprenticeship at Lanier Tech is that it is a singular local opportunity for a company to develop their internal Quality Control Technician talent base. The cohort structure of the apprenticeship makes it a unique opportunity for employees to not only learn new tools of their trade but to also learn from each other while enrolled in the apprenticeship."
You can find more information about Lanier Technical College's apprenticeships and academic programs by visiting the college's website at: www.laniertech.edu.