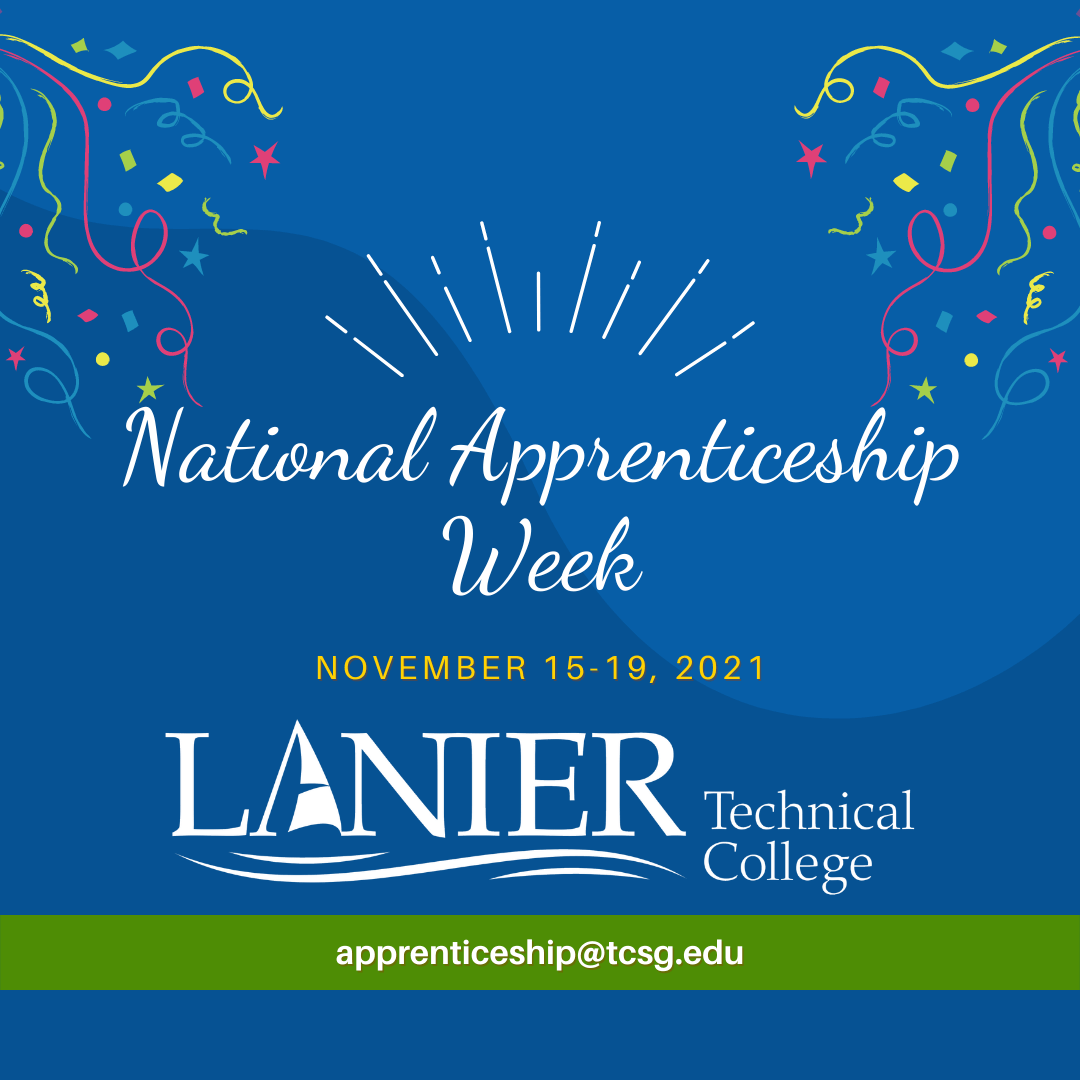 November 17, 2021
Gainesville, GA — Lanier Technical College along with the Technical College System of Georgia (TCSG) celebrates this year's National Apprenticeship Week (November 15-19, 2021) by highlighting the importance of Registered Apprenticeship Programs to growing Northeast Georgia's skilled workforce.
Lanier Tech is among Georgia's 22 technical colleges, including the system office, to serve as registered apprenticeship sponsors making it a part of the largest registered apprenticeship network throughout the state. In recent years, Lanier Tech has offered approximately six Registered Apprenticeship Programs, serving 35 apprentices and 15 employers.
"Lanier Technical College is very proud of the partnerships we have with our local businesses, industries and students who participate in our apprenticeship programs. Apprenticeships are another tool that companies can use to help develop the workforce of tomorrow," said Lanier Technical College President, Tim McDonald.
Currently, according to the U.S. Department of Labor, there are more than 9,000 active apprentices throughout the state of Georgia, which continues Georgia's rise in apprenticeship activity. This figure is expected to grow with the additional apprenticeship funding available to Georgia employers and apprentices, such as the Apprenticeship State Expansion (ASE) Grant and Georgia's HOPE Career Grant.
To get involved or learn more about TCSG's Registered Apprenticeship Programs, please contact the Office of Workforce Development (apprenticeship@tcsg.edu).
About the Technical College System of Georgia
The 22 colleges of the Technical College System of Georgia (TCSG) are Georgia's top resource for skilled workers. TCSG offers world-class training in more than 600 associate degree, diploma and certificate programs to students who are trained on state-of-the-art equipment by instructors who are experts in their fields. The system also houses Georgia's Office of Adult Education, which promotes and provides adult literacy and education programs, including the GED® testing program, throughout the state. In addition, TCSG partners with companies through Quick Start, the nation's top customized workforce training program, and through its individual colleges, who work with local industry to provide workforce and training solutions. For more information, visit TCSG.edu.
ABOUT LANIER TECHNICAL COLLEGE
Lanier Technical College has a 100 percent job placement rate five out seven years in a row. The College offers over 50 programs of study in some of the nation's fastest-growing career fields including healthcare, energy, business and industry, and public or private service. Lanier Technical College is a Unit of the Technical College System of Georgia. For more information about Lanier Technical College, visit www.laniertech.edu or phone 770-533-7000.
Contact:
Cory Addison
Director of Business & Industry
Economic Development Division
770-533-6994
caddison@laniertech.edu